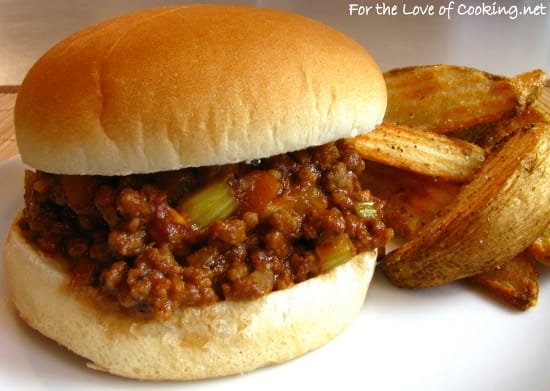 Okay, so this isn't a culinary masterpiece but it is an easy dinner when you have left over ground beef and hamburger buns to use up. I wasn't in the mood for anything fancy and I was really tired so I threw some ingredients together and made sloppy joes. It was extremely easy to make and tasted great. I served them with baked steak fries and watermelon wedges. My husband and kids loved this dinner and I loved how easy it was.
1 1/2 lbs of lean ground beef (I used 96/4)
1 small sweet yellow onion, diced
1/4 orange bell pepper, diced
1 celery stalk, diced
3 cloves of garlic, minced
1 tsp dried mustard
1/2 tsp paprika
1 cup of ketchup
1 tsp brown sugar
2 tbsp water
Salt and pepper to taste
Heat a skillet over medium heat. Add ground beef and cook for 3-4 minutes, making sure to break it up into crumbles. Add the onion, celery, garlic and bell pepper and cook for 2-3 minutes or until soft. Drain any grease then add ketchup, brown sugar and water. Stir and simmer for 15-20 minutes. Enjoy.