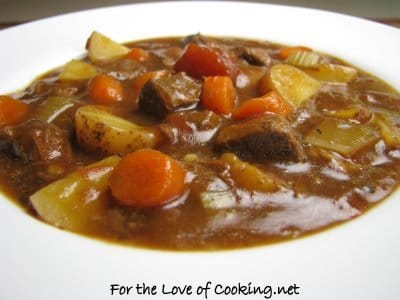 Beef stew is my kind of comfort food. When I was a kid, my mom would cook stew all day in the crock-pot and we would eat it with white bread and butter. This is one of those recipes that I really love because it's very easy to make, it reminds me of my childhood and it makes the house smell so good. I love to cook the meat, onion, garlic, tomatoes, and broth in the oven for about 4-5 hours then add the fresh vegetables and cook for another hour on the stovetop. I serve with a tossed salad and fresh bread with butter. This is my daughter's very favorite dinner and is a huge hit in our house – especially on cold and rainy days.
Beef Stew:
Ingredients:
1 lb stew meat (preferably chuck roast)
1 sweet yellow onion chopped into large pieces
6 cloves of garlic chopped
1 tbsp olive oil
1 can of diced tomatoes
1-2 tsp dried thyme
Salt and pepper to taste
2 bay leaves
6 cups of beef stock
1 cup diced carrots
1 cup diced celery
2 cups diced baby red potatoes (skin on)
How to Make Beef Stew
Preheat oven to 250 degrees (you can also use stovetop or crock-pot).
Heat olive oil in a large Dutch oven over medium heat. Add stew meat and onion then cook for about 5 minutes. Add garlic and cook for 30 seconds before adding tomatoes, seasonings, and stock.
Cover and cook in the oven for at least 4 hours. Remove pot from oven and place on stovetop over medium-low heat.
Add vegetables to the stew and add more beef broth if low. Taste and re-season if needed. Cover and cook for 1 – 1 1/ 2 hours. If you want the stew to be thick, add a slurry of cornstarch and cold beef broth (mixing thoroughly) then pour it into the stew while it's boiling, stir then reduce heat to low. Serve and enjoy!