Pork Tenderloin, Caramelized Onion, and Monterey Jack Baked Flautas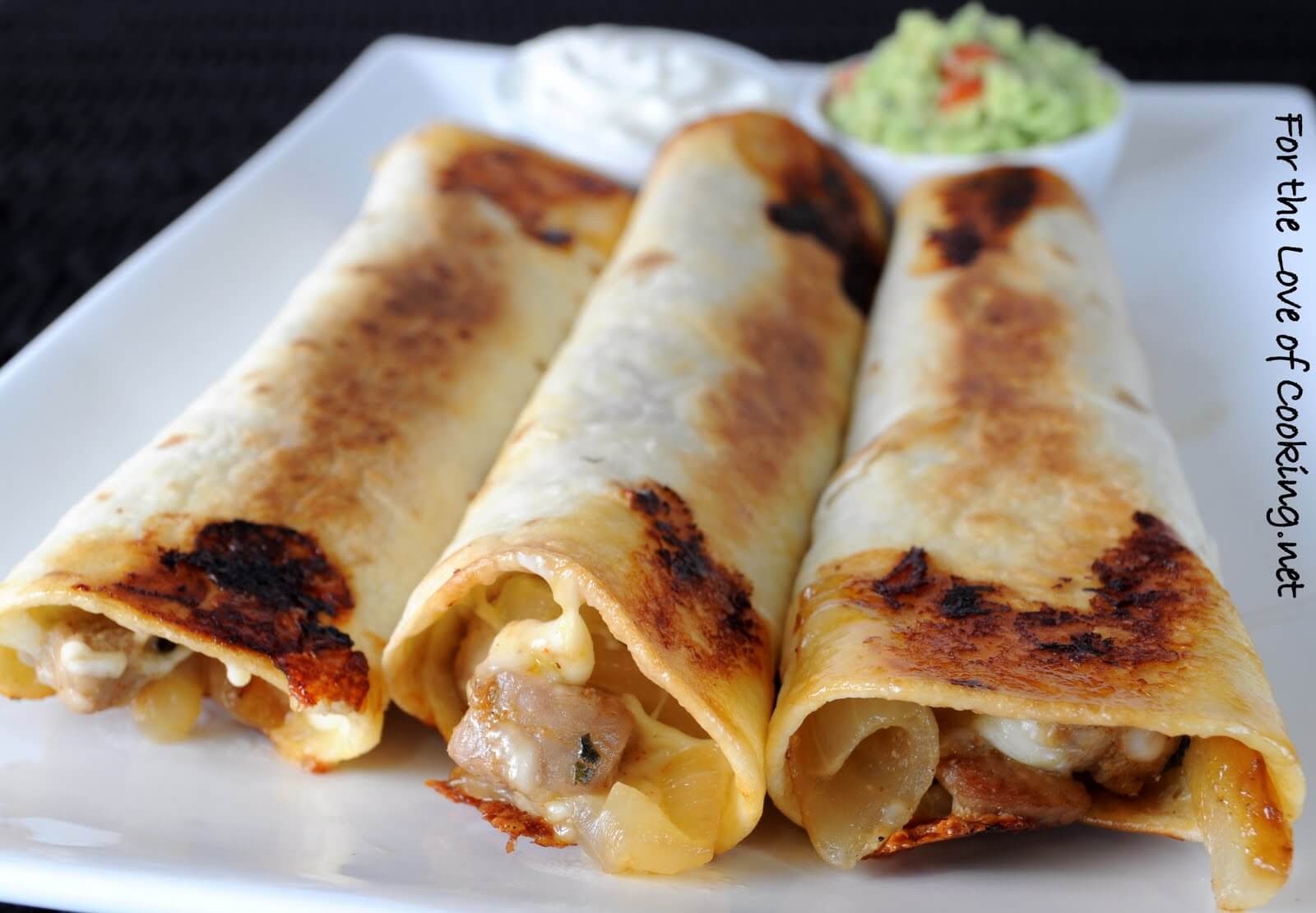 I had a pork tenderloin in the refrigerator and I was craving Mexican food so I decided to make pork flautas with caramelized onions, and Monterey Jack cheese. The pork was so tender, juicy, and flavorful and tasted fantastic with the sweet caramelized onion, creamy cheese, and crispy flour shell. These flautas were a huge hit with my entire family, especially my daughter who kept telling me how much she loved them. I served these flautas with sour cream, guacamole, and salsa.
How to Make Pork Tenderloin, Caramelized Onion, and Monterey Jack Baked Flautas
Recipe and photos by For the Love of Cooking.net
Ingredients:
1 tbsp olive oil (divided
1 sweet yellow onion, sliced
1 pork tenderloin, diced
Chili powder, to taste
Paprika, to taste
Coriander, to taste
Garlic powder, to taste
Cumin powder, to taste
Oregano, to taste
Sea salt and freshly cracked pepper, to taste
Flour tortillas
Monterey Jack cheese, shredded
Preheat the oven to 375 degrees. Line a baking sheet with a silpat mat.
Heat 1/2 tablespoon of olive oil in a large skillet over medium heat. Add the onion and cook, stirring often, for 6-7 minutes until slightly caramelized and tender. Remove from the pan and set aside.
Heat the remaining 1/2 tablespoon of olive oil in the skillet over medium HIGH heat. Once the pan is HOT add the diced pork tenderloin then season, to taste, with all of the spices. Cook for 3-4 minutes, until golden brown but not yet cooked through (it will finish cooking in the oven). Remove from the stove.
Wrap flour tortillas in wet paper towels and microwave them for 1 minute or until soft.
Place a bit of Monterey Jack cheese in the center of the tortilla first then add caramelized onion on top of the cheese, then diced pork tenderloin; roll. Place, seam side down, on a baking sheet that's been coated with cooking spray. Finish rolling the rest of the flautas, then spray each of them with cooking spray.
Place into the oven and bake for 8-10 minutes then turn over and cook for an additional 5-6 minutes or until crispy and golden brown.
Dips:
Serve the flautas with a side of guacamole, sour cream, and/or salsa for dipping. Enjoy.