Sautéed Asparagus with Bacon and Dijon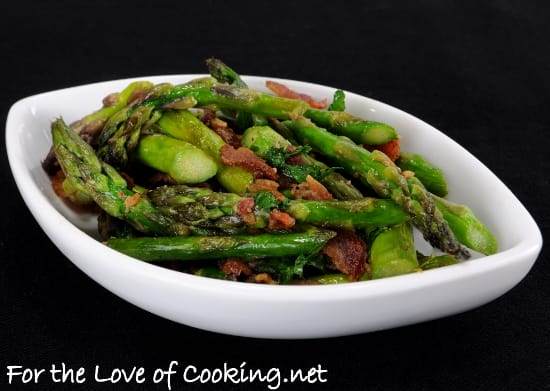 This recipe, from Everyday Food, couldn't have been easier to make. I really loved the crisp-tender asparagus with the salty bacon and the spicy kick from the Dijon. This side dish took minutes to make, smelled fantastic, and tasted even better. We all loved this one – even the kids!
How to Make Sautéed Asparagus with Bacon and Dijon
Heat the olive oil in a skillet over medium heat. Add a piece of lean bacon to the skillet then cook for 1-2 minutes, flipping halfway through cooking, until crisp. Place the bacon onto paper towels to drain. Crumble the bacon into large bits.
Add the chopped asparagus to the skillet that has the bacon grease. Cook, stirring often, for 4-5 minutes or until crisp-tender. Add the Dijon mustard then season with sea salt and freshly cracked pepper, to taste. Gently stir until evenly coated. Toss in the bacon then serve it immediately. Enjoy.