Mexican Tostada topped with a Poached Egg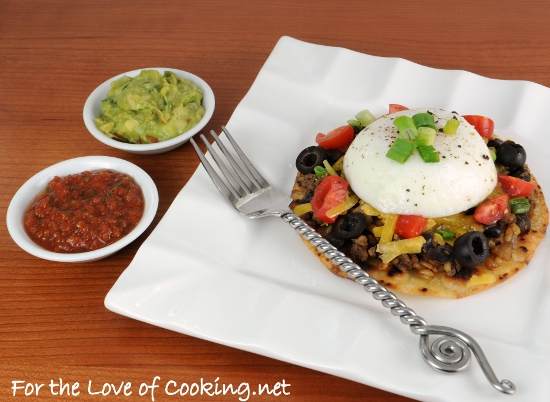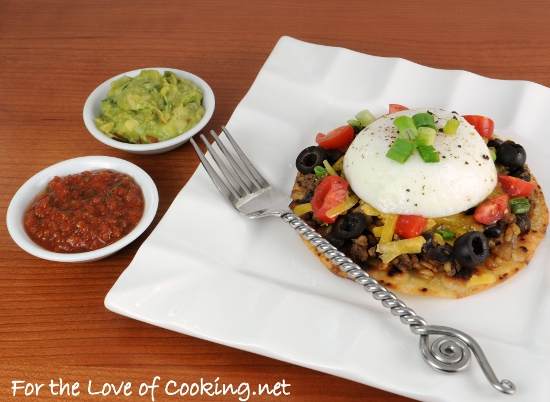 Seriously, words can't describe how much I loved this dish. I wanted something tasty for lunch so I went looking through the refrigerator to see what I had. I found a bunch of leftover taco fixings that needed to be used up but I was craving a poached egg so I decided to combine the two. I am telling you – it was AWESOME! If you love Mexican food and eggs – try this dish. If you don't feel like making the ground beef / black bean mixture, I am sure plain black beans or refried beans would be just as tasty. I know what I'll be making the next time we have taco leftovers.
How to Make a Mexican Tostada topped with a Poached Egg
Prepare the ground beef and black bean mixture – click this link for the recipe.
Heat the olive oil in a skillet over medium heat. Add the tortilla and cook on both sides until crispy and golden brown, about 5-6 minutes. Place on a paper towel to drain.
Add water to a pan, filling it two-thirds full; bring to a boil. Reduce heat to simmer. Coat a poaching cup (or custard cup) with cooking spray then place in the water. Break the egg into the cup then cover the pan with a lid and cook for 4-6 minutes or until the whites are firm but the yolk is soft.
Layer the crisp tortilla with the beef and bean mixture, cheddar cheese, tomatoes, olives, and green onions. Place the poached egg on top then add a few more green onions and season with sea salt and freshly cracked pepper, to taste. Serve immediately with salsa and guacamole. Enjoy.