My son absolutely loves macaroni and cheese! He doesn't care if it's homemade or from the blue box, he just loves it all. He recently had a buddy over for the day and they both love cheesy noodles so I decided to surprise them with homemade extra cheesy mac and cheese. It took less than 30 minutes to make and it turned out creamy and delicious. Both of the boys gobbled it up and gave it two thumbs up. My daughter, who doesn't like mac & cheese, ate a bowl and said it was awesome… how cool is that? This recipe has 9 ingredients and tastes a million times better than the stuff in the box and it's easy to make too!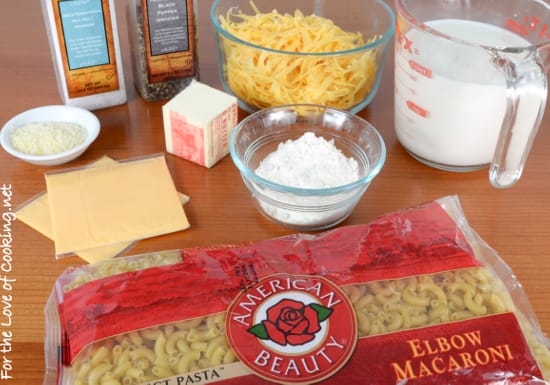 How to Make Macaroni and Cheese
Cook the elbow macaroni per package instructions.
In a saucepan, melt the butter over medium heat; stir in the flour until well combined and cook for 30 seconds, stirring constantly. Very slowly add in the milk, whisking constantly, until well combined; cook and stir until bubbly.
Reduce heat to low and add the cheddar cheese, American cheese, and grated Parmesan cheese; stir until melted. Season with sea salt and freshly cracked pepper, to taste. Add the cooked & drained noodles to the sauce. Toss to coat evenly then turn the stove off and let it sit for 3-5 minutes to allow the sauce to thicken. Stir, taste & re-season, if needed. Serve with extra shredded cheddar or Parmesan cheese for sprinkling on top. Enjoy.