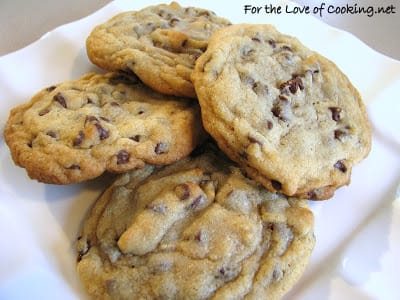 I like chocolate chip cookies (who doesn't) but my husband and children LOVE them. We bake them often and they turn out crispy on the outside and soft and gooey on the inside. I ran out of big chocolate chips so I used mini chips and they worked great. The warm cookies are absolutely delicious with an ice cold glass of milk.
2 cups flour
1/4 cup whole wheat flour
1 tsp baking soda
1 tsp salt
1 cup butter, softened
1/2 cup white sugar
1 cup packed brown sugar
1 teaspoon vanilla extract
2 large eggs
2 cups of semi sweet mini chocolate chips
Preheat oven to 375° F. Combine flour, baking soda and salt in a small bowl and mix thoroughly. Beat butter, white sugar, brown sugar and vanilla extract in large bowl until creamy. Add eggs, one at a time, beating well after each addition. Gradually stir in the flour mixture then stir in the chocolate chips. Drop small spoonfuls onto an ungreased baking sheet. Bake for 9 to 11 minutes or until golden brown. Cool on wire racks. Enjoy.