Grilled Blackened Salmon with Pineapple Mango Salsa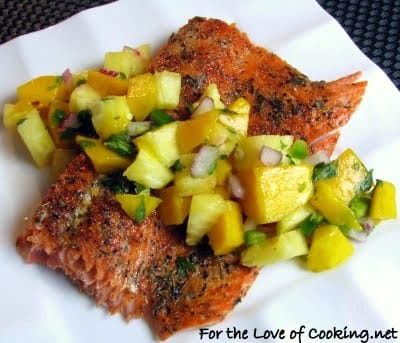 I found a really fresh and delicious-looking salmon at Costco recently and decided to grill it up with some blackened seasonings and serve it topped with pineapple-mango salsa. The spicy fish was so delicious with the sweet salsa–it was an amazing dish. We had friends over for dinner and we all really, really loved it. A couple of the kids liked it too! I will be serving this meal over and over again.
How to Make Grilled Blackened Salmon with Pineapple Mango Salsa:
Blackened Seasoning:
2 teaspoons ground paprika
2 teaspoons dried leaf thyme
2 teaspoons onion powder
2 teaspoons garlic powder
1 tablespoon granulated sugar
2 teaspoons salt
2 teaspoons black pepper
1/2 teaspoon ground cayenne pepper, or to your taste
1 teaspoon dried leaf oregano
3/4 teaspoon ground cumin
1/2 teaspoon ground nutmeg
Combine all ingredients together and mix thoroughly. Top the salmon with a bit of olive oil then spread a nice coating of the blackened seasoning over the top of the salmon.
Pineapple – Mango Salsa:
1 ripe mango, peeled and diced
1/2 small fresh pineapple, diced
2 tbsp minced red onion
1 jalapeño, seeded and diced
1-2 tbsp chopped fresh cilantro
Juice of 1 lime
Chop all the ingredients and place in a bowl, add the lime juice and combine gently until well mixed.
Place the salmon, skin side down, directly on the grill or on top of tin foil (we did this for easier clean up). If you are cooking directly on the grill, turn every 2-3 minutes to prevent the skin from sticking. If you cook on tin foil, don't bother turning it and cook for 5-7 minutes or until you place a fork in the fish and twist, if it's flaky then remove it from the grill.
Top with the pineapple mango salsa and enjoy.
Click here for a printable version of this recipe – For the Love of Cooking.net