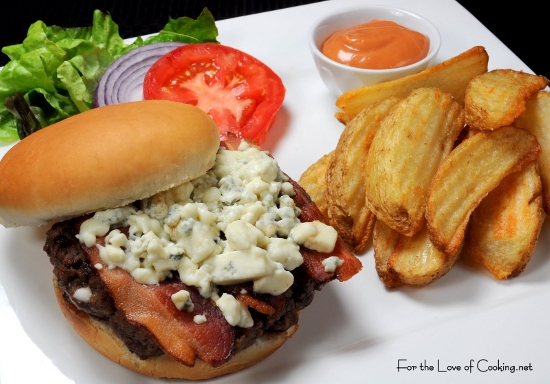 Bacon blue cheeseburgers always make my mouth water when I see them on a restaurant menu but I never order them because they are so fattening. I was craving a juicy cheeseburger, so I decided to make a healthier version of the blue cheese and bacon burger at home. I used lean ground beef, low fat (but still very flavorful) blue cheese, and a piece of really lean bacon to make a fantastic-tasting burger. I served this burger with baked steak fries and fry sauce for a delicious meal. This dinner tasted so much better than the local fast food restaurant and it was much healthier too.
How to Make a Blue Cheese and Bacon Burger:
Recipe and photos by For the Love of Cooking.net
Ingredients:
1 lb of ground beef (I used 90/10)
1 tsp of Worcestershire sauce
1/2 tsp of garlic powder
1/2 tsp of onion powder
Sea salt and freshly cracked pepper, to taste
Blue cheese crumbles
4 slices of bacon or turkey bacon, cooked
Tomato slices
Lettuce
Red onion, thinly sliced
4 hamburger buns, toasted
Combine the lean ground beef, Worcestershire sauce, garlic powder, and onion powder together (don't work the meat too much). Form the beef mixture into 4 patties. Season each side of the patty with sea salt and freshly cracked pepper, to taste.
Heat a grill pan coated in cooking spray over medium heat. Once the pan is HOT add the patties and cook about 3-4 minutes then flip. Break a slice of bacon in half and add to the burger then top with a bit of blue cheese. Cook for an additional 2-3 minutes or until your desired degree of doneness.
Fry Sauce:
1 tbsp mayonnaise
2 tbsp ketchup
Combine the ketchup and mayonnaise in a bowl and mix until thoroughly combined. Set aside.
Place the burger onto a toasted bun and top with tomato, lettuce, and onion. Serve with fry sauce. Enjoy.