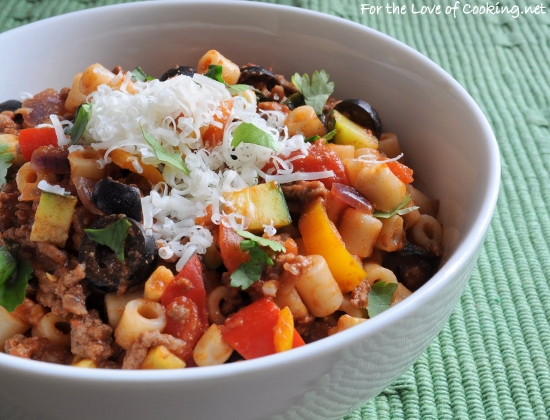 I was craving a simple and hearty dinner that used up some of the things in my refrigerator so I decided to make a Southwestern style goulash. It was a great way to use up the extra peppers, cilantro, and ground beef I had on hand and it tasted wonderful. I loved the spices and flavors of this dish and so did my husband. My kids said it was okay but it wasn't their favorite – that's okay, more for me!
Southwestern Goulash:
Ingredients:
1 tbsp olive oil
1/2 red onion, diced
3 baby red, orange, or yellow bell peppers, diced
1 lb lean ground beef
1 tsp chili powder
1 tsp paprika
1 tsp ground cumin
1 tsp dried oregano
1 tsp garlic powder
Sea salt and freshly cracked pepper, to taste
3 cloves of garlic, minced
1 (14.5 oz) can of tomato sauce
1 (14.5 oz) can of diced tomatoes
1 (7 oz) can of whole green chilies, diced
1 (4 oz )can of sliced olives
1 cup of zucchini, diced
1 cup of dried ditalini or macaroni pasta, cooked per instructions
1 cup of frozen sweet corn
1 cup of fresh cilantro, chopped, plus some for garnish
Cotija cheese, shredded
How to Make Southwestern Goulash
Heat the olive oil in a small Dutch oven over medium heat. Add the onion and bell pepper then sauté for 3-4 minutes.
Add the ground beef making sure to break it up into small crumbles. Cook for 4-5 minutes or until cooked through.
Add the seasonings and minced garlic and cook, stirring constantly, for 1 minute. Add the tomato sauce, diced tomatoes, green chilies, olives, and zucchini. Cook for 15 minutes. Taste and re-season if needed.
Cook pasta per instructions. Add the drained pasta along with the chopped cilantro to the mixture and stir until well mixed. Let the mixture simmer for another 5-10 minutes. Serve topped with fresh cilantro and shredded cotija cheese. Enjoy.
Click here for a printable version of this recipe – For the Love of Cooking.net