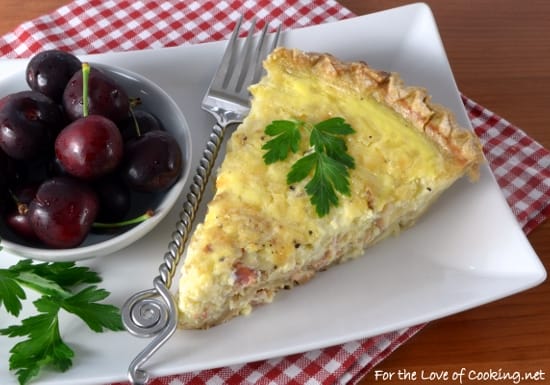 This past week, we have had incredibly hot weather followed by a cool and rainy weekend. I made a big pot of Slow Simmered Beef and Mushroom Stew yesterday for dinner and it was nice to cook something slow and low on a cool and rainy day, after such a hot week. I woke up much too early this morning and just could not get back to sleep. I decided to make good use of the time and bake a quiche for breakfast. I love all sorts of quiche flavors from plain cheese to fancy smoked salmon but I think Quiche Lorraine will always be my very favorite. I've had it several times over the years and really love the flavor of salty and smoky bacon with the creamy and flavorful Gruyere cheese, and the sweetened sautéed onions combined together with the fluffy eggs and flaky crust. What's not to love? I always have a frozen pie crust on hand (I am a bit lazy like that), and bacon, cheese, and onions are always staples in my home. It was fun to make this quiche in the early morning hours and it smelled amazing while it baked. The flavors, in my opinion, are perfect and I just love the simplicity of this recipe. My kids opted to make their own breakfast, so my husband and I were able to have this quiche all to ourselves. We both LOVED this recipe and we're looking forward to the leftovers tomorrow morning for breakfast.
How to Make a Quiche Lorraine
Preheat the oven to 375 degrees.
Press tin foil on top of the frozen pie crust and place it into the oven to bake for 10 minutes. Remove the foil and continue to bake for 3-5 minutes. Remove from the oven. Place the tin foil on the bottom of a baking sheet. Place the pie crust on top.
Cook the bacon in a skillet over medium heat until crisp and cooked. Place on a paper towel to drain grease then cut into crumbles. Remove all but 1-2 teaspoons of bacon grease from the skillet then add the onion. Cook, stirring often, for 4-5 minutes, or until softened and golden brown.
Combine the eggs, milk, sea salt, and freshly cracked pepper, to taste, together in a bowl and whisk until very well combined.
Sprinkle most of the crumbled bacon in the bottom of the pie crust followed by most of the Gruyere cheese and caramelized onions.
Add the well-whisked egg mixture. Sprinkle the remaining bacon, cheese, and caramelized onions on top.
Carefully place into the oven and bake for 30-35 minutes, or until the top is set and not wiggly and the eggs are cooked through. Don't overcook!
Let the quiche cool for at least 15 minutes before slicing and serving. Enjoy.