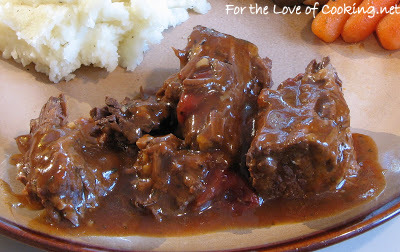 I love pot roast and I love cooking in my Dutch oven so this is a regular in our house. My kids both love the tender meat & sauce. This was a favorite of mine growing up and it's a perfect Sunday dinner.
Pot Roast:
Recipes and Photos by For the Love of Cooking.net
2-3 lb round roast
1 tsp olive oil
2 tsp of dried thyme
2 tsp of salt
1 tsp of pepper
1 tsp of garlic powder
1 tsp of onion powder
Preheat oven to 275 degrees; Heat olive oil in a Dutch oven over medium high heat. In a bowl, combine all seasonings & mix well. Rub the meat thoroughly with seasoning mixture until gone. Place in hot skillet & sear all sides of the beef.
Once seared add the following ingredients:
1/2 yellow sweet onion, chopped into large pieces
3-5 cloves of garlic, chopped (I use 5)
1 14.5 oz can of diced tomatoes
2 cups of beef broth
8-10 white button or cremini mushrooms
2 stalks of celery
1 bay leaf
Bake in the oven for 4-5 hours.
10 baby carrots (add 1 hour before the pot roast is done cooking)
10 baby red potatoes (add 1 hour before the pot roast is done cooking)
About an hour before the pot roast is done cooking, add the baby carrots & baby red potatoes (they'll be perfectly cooked – not soggy). Let pot roast sit on cutting board for a few minutes before slicing. Strain remaining sauce through a colander and into a bowl; return strained liquid to the Dutch oven. Separate the potatoes, carrots & mushrooms (onions if you wish) to the serving plate. Boil sauce down for 5 minutes (add some cornstarch mixed with beef broth or water, if you want a thicker sauce) and drizzle over sliced pot roast. Serve with carrots, potatoes and mushrooms. Enjoy.