Sweet Corn with Cilantro Lime Butter and Cotija Cheese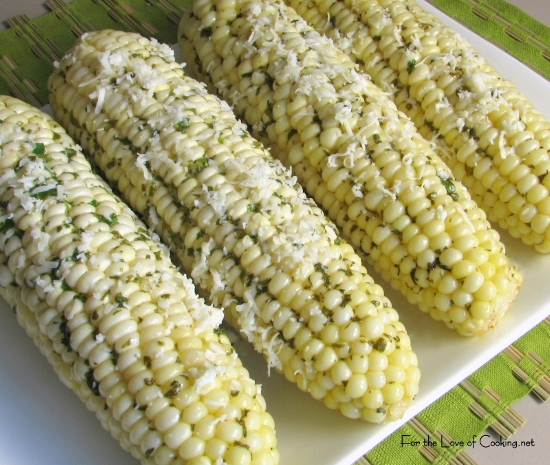 I've been wanting to make corn with cilantro, lime and cotija cheese for a long time. I bought some sweet corn and decided to finally give it a try. I loved the flavor of the cilantro lime butter on the sweet corn and the salty cotija cheese on top. We all, guests included, loved this corn on the cob. Baking the corn was very simple with little clean up – I love that. It went really well with the Flank Steak with Chimichurri Sauce.
Cilantro Lime Butter:
Recipe and photos by For the Love of Cooking
1/2 stick unsalted butter, softened
1/4 cup chopped cilantro leaves, chopped finely
1/2 a lime,

zested

and juiced
Sea salt, to taste
1/4 tsp cayenne pepper
4 ears of corn,

schucked

and cleaned

Cotija

cheese, grated
In a small bowl, mix the butter, chopped cilantro, lime juice, lime zest, sea salt and cayenne pepper thoroughly.
Preheat oven to 400ºF. Coat each ear of corn with the the cilantro lime butter and wrap individually in foil. Roast for about 20-25 minutes. Sprinkle cotija cheese on top and serve.

Click here for a printable version of this recipe – For the Love of Cooking.net