Spicy Sesame Noodles with Roasted Chicken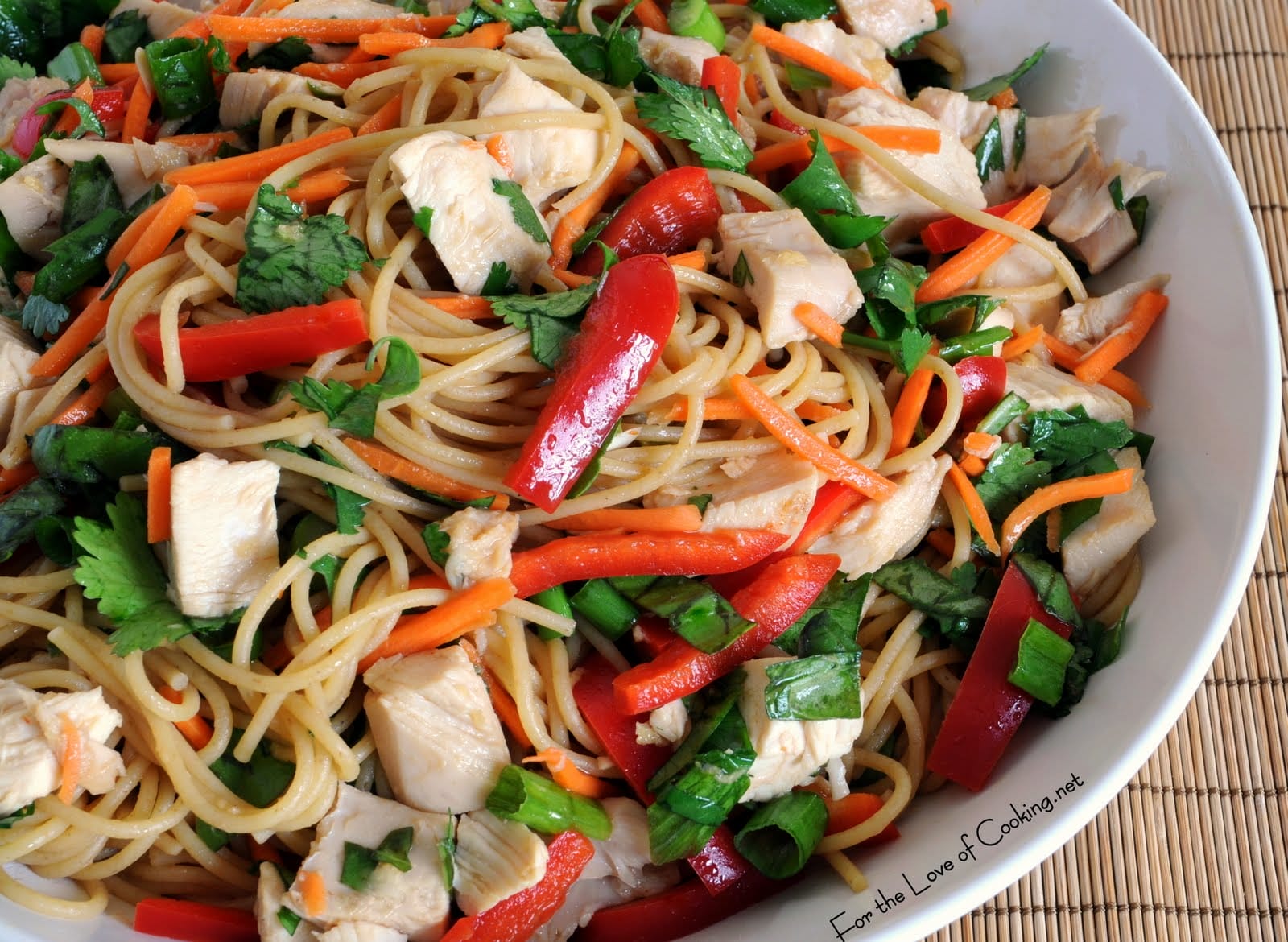 I had leftover roasted chicken to use up so I decided to make a spicy sesame noodle dish with chicken, carrots, bell pepper, fresh basil, and cilantro. I made a sesame and soy dressing that made this dish extra tasty. This recipe was so quick and simple to make – perfect for a busy weekday dinner. My entire family loved this recipe and we gobbled up every last bite.
How to Make Spicy Sesame Noodles with Roasted Chicken
Ingredients:
3 tbsp seasoned rice vinegar
2 tbsp of soy sauce
2 tbsp of canola oil
1 tbsp of sesame oil
1/2 tbsp of Sriracha chili sauce (more if you want it extra spicy)
1 clove of garlic, minced
1 tsp fresh ginger, minced
7-8 oz of whole wheat spaghetti, cooked per instructions
1 1/2 cups of roasted chicken, chopped
1 cup of shredded carrots
1 cup of red pepper, sliced
3-4 green onions, sliced
1 cup of fresh cilantro, chopped
6-7 fresh basil leaves, chiffonade
How to Make a Spicy Sesame Noodles with Roasted Chicken
Combine the vinegar, soy sauce, canola oil, sesame oil, Sriracha sauce, garlic, and ginger together. Mix well and set aside for at least 30 minutes to allow the flavors to mingle.
Cook the spaghetti per instructions. Drain then return to the pan along with the chicken, bell peppers, carrots, green onions, and the sauce; toss until the noodles, chicken, and vegetables are evenly coated with the sauce. Remove from the stove then add the basil and cilantro and toss to combine. Serve immediately. Enjoy.
Click here for a printable version of this recipe – For the Love of Cooking.net