Spatchcocked Roasted Chicken with Tomatoes, Garlic, and Fresh Basil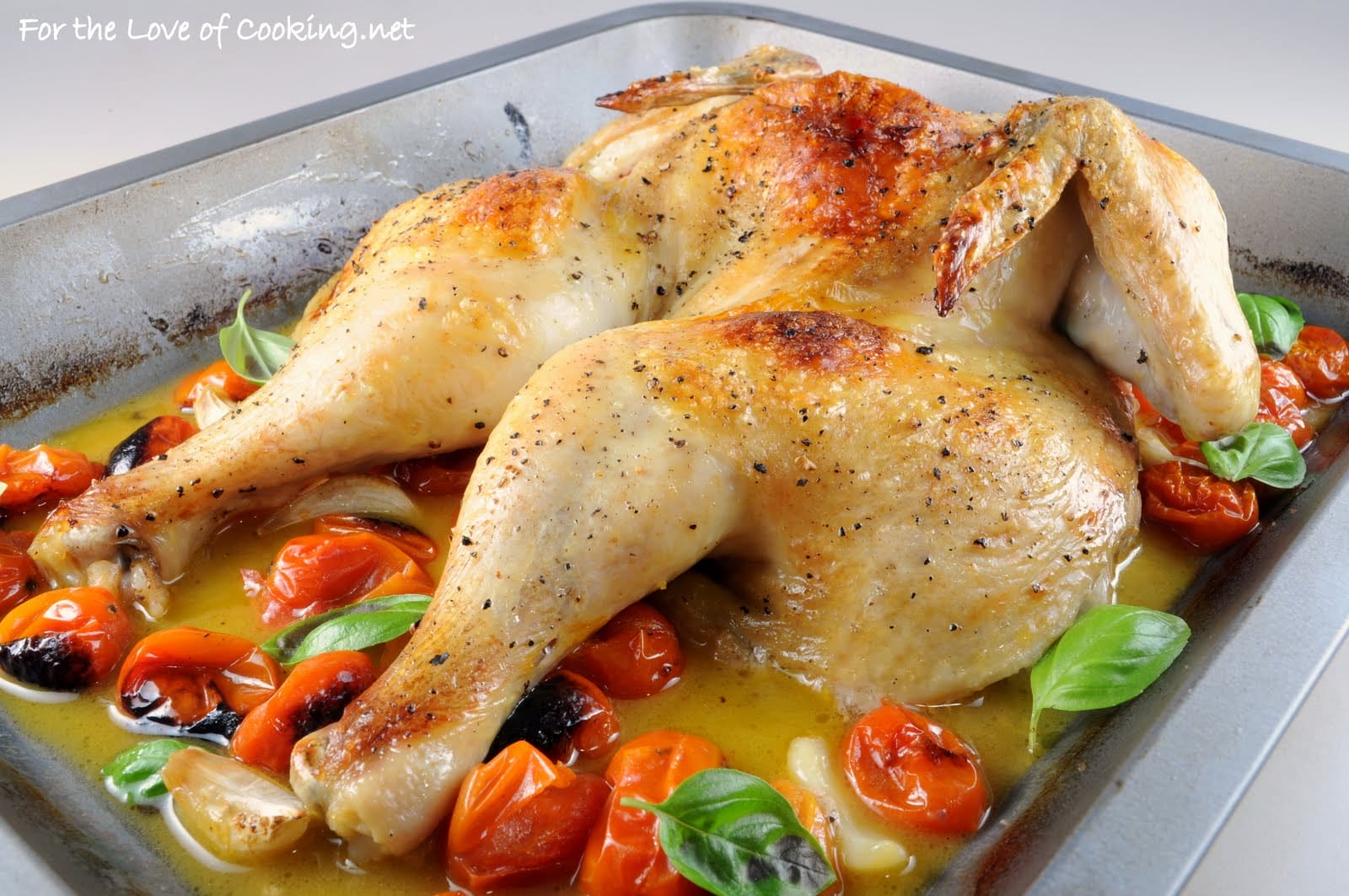 I learned about spatchcocking chicken from my friends Marjie and Chris and I've been wanting to try it for a long time. I found this Martha Stewart recipe that looked wonderful so I finally decided to give it a go. I found a great step-by-step pictorial at Cookthink that walked me through the process of preparing the chicken. It was easy to do (as long as you have sharp kitchen shears) and because you roast the chicken at 500 degrees, it takes very little time. The chicken turned out moist, tender, and so delicious and the tomatoes and garlic were perfectly cooked and flavorful. This roasted chicken made a wonderful meal that my whole family enjoyed.
How to Make a Spatchcocked Roasted Chicken with Tomatoes, Garlic, and Fresh Basil
Adapted recipe by For the Love of Cooking.net
Original recipe by Martha Stewart
Inspired by Marjie and Chris
Ingredients:
1 5 lb whole chicken
2 cups of grape or cherry tomatoes
5-6 UNPEELED cloves of garlic
Drizzle of olive oil
Sea salt and freshly cracked pepper, to taste
3/4 cup chicken broth
Fresh basil leaves
Preheat the oven to 500 degrees. Prepare the chicken, spatchcocking instructions found at Cookthink. Coat your roasting pan with cooking spray.
Place the spatchcocked chicken in your roasting pan then add the tomatoes and garlic around the sides of the chicken. Drizzle the chicken, tomatoes, and garlic with a bit of olive oil. Rub the olive oil all over the bird so it's evenly coated. Season the chicken and tomatoes well with sea salt and freshly cracked pepper, to taste. Pour the chicken broth into the bottom of the roasting pan.
Place a meat thermometer into the thickest part of the thigh without touching the bone. Put the chicken into the oven and roast for 40-50 minutes or until the meat thermometer reads 165-170 degrees. If the skin isn't golden enough, turn your oven to broil and cook for an additional 1-2 minutes until the skin is golden brown and crisp. WATCH CAREFULLY SO IT DOESN'T BURN. Remove the chicken from the oven and let it rest for 5-7 minutes before adding the basil leaves to the tomatoes and carving the chicken. Enjoy.
Click here for a printable version of this recipe – For the Love of Cooking.net