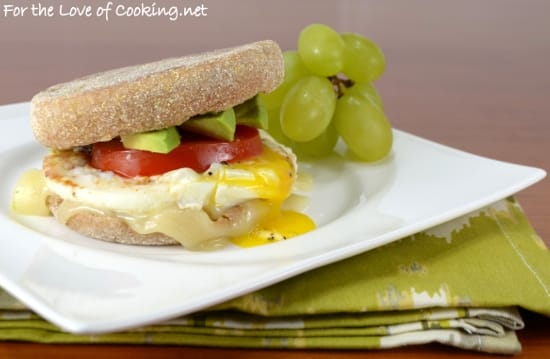 This may be my new favorite breakfast sandwich. What's not to love about a crispy English muffin with creamy avocado, a slice of tomato, Swiss cheese, and an easy over egg. The yolky egg and gooey melted cheese made this sandwich extra special. I used my new egg ring to make the egg the perfect size for the English muffin. This sandwich may be a bit messy to eat but it's worth it! I'll be having this breakfast sandwich again tomorrow morning and I can't wait!
Heat the cooking spray in a small skillet over medium heat. Crack the egg into the egg mold and season with cayenne, sea salt, and freshly cracked pepper, to taste. Once the white of the egg is no longer transparent, add the water to the pan and cover with a lid. Cook for about 1 minute or until the yolk is clouded over but still soft. Don't over cook or the yolk will be hard.
Toast the English muffin. Place the cheese on the bottom half of the English muffin followed by the egg, sliced tomato, and avocado slices; season with sea salt and freshly cracked pepper, to taste. Top with the remaining muffin half. Serve immediately. Enjoy.