Banh Mi Sandwich with Lemongrass Pork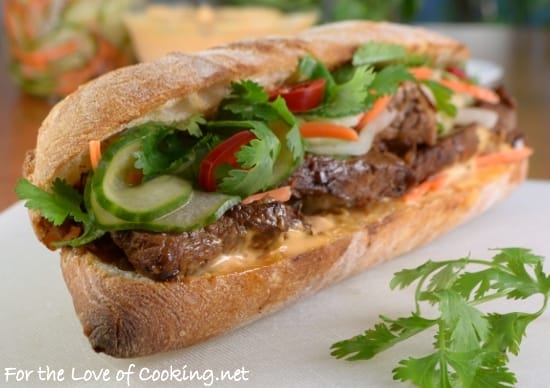 My husband came home recently raving about a banh mi sandwich he had at a local Vietnamese restaurant. The sandwich was filled with pickled veggies, pork, pâté, spicy mayo, on a baguette. I decided to try to recreate the sandwich at home but without the pâté… I am just not a fan of liver. I decided to do a lemongrass marinated pork shoulder sandwich on a lightly toasted mini-baguette with sriracha mayonnaise and pickled carrots, cucumbers, and daikon, topped with chillis and fresh cilantro. What a great combination of flavors, textures, and colors in this tasty sandwich! We all, kids included, thought these banh mi sandwiches were delicious, and my husband enjoyed the leftovers for lunch the following day.
Quick Note: My site has been dealing with hacker attacks for the past couple of weeks. I have been working with my hosting company and a new web designer to get my site back to normal. You may be having problems viewing my site, commenting, or printing a recipe. If you have a question or need me to e-mail you a recipe, please don't hesitate to send me an e-mail @ [email protected] Sorry for any inconvenience these hackers are causing. I'll keep you posted. ~Pam
How to Make a Banh Mi Sandwich with Lemongrass Pork
Slice the pork shoulder into thin strips, removing as much of the fat as you can. Combine the lemongrass, lime juice, brown sugar, fish sauce, soy sauce, sesame oil, vegetable oil, shallot, minced garlic, and red chillis together in a large zip lock bag. Place the pork slices into the bag and seal, making sure to mix well so the pork is evenly coated. Place on a plate in the refrigerator to marinate for at least 4 hours.
While the pork is marinating, make the pickled veggies. Combine the sliced cucumber, carrots, and daikon together in a bowl; add the seasoned rice vinegar and mix well. Cover and refrigerator for a few hours, stirring occasionally.
Make the sriracha mayonnaise by combining the mayonnaise with sriracha, to taste; mix well. Cover and refrigerate until needed.
Remove the pork from the refrigerator 30 minutes prior to cooking it. Heat a grill pan coated in cooking spray over medium-high heat. Add some of the pork slices to the HOT pan and cook for 3-4 minutes, or until browned then flip over and continue cooking until pork is cooked through, about 2-3 minutes. Place the cooked pork on a plate covered loosely by a tin foil tent. Cook the remaining pork.
Lightly toast a baguette in the preheated oven at 350 degrees, then slather with some sriracha mayonnaise, layer with pieces of pork, top with pickled veggies, sliced red chilies, and cilantro. Serve and enjoy!