Linguine with Turkey Italian Sausage, Tomatoes, Arugula, and Ciliengini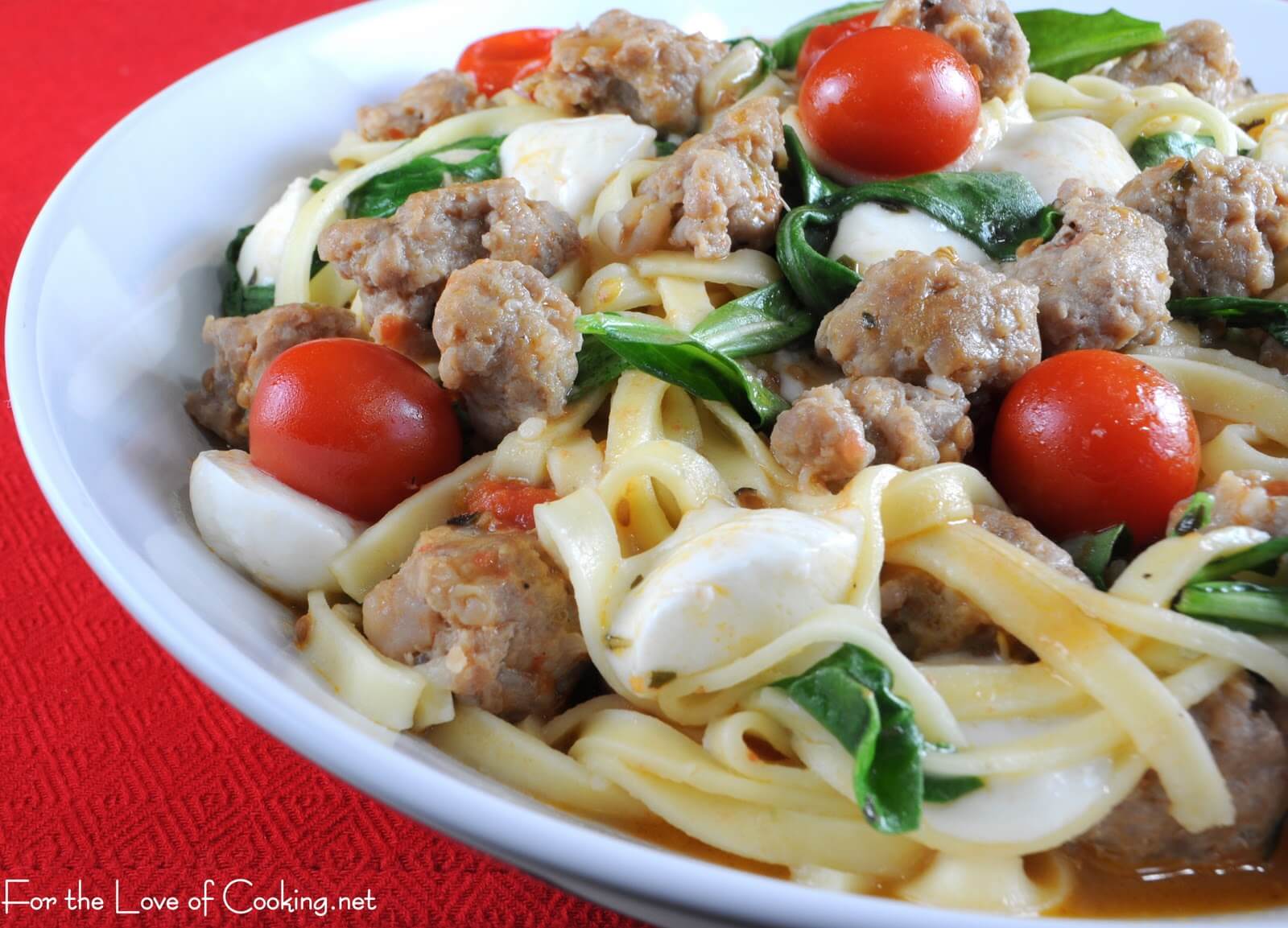 There is a restaurant in our town called Mingo that my husband and I just love. They have great food, wonderful ambiance, and terrific service! They also have a linguine dish that makes me drool. It's so simple, hearty, and delicious that I truly crave it on a weekly basis. I decided to try to recreate it at home and I was very proud of myself because it turned out delicious and very close to the original. This was fairly simple to make and a huge hit with my entire family. The kids didn't love the arugula but they gobbled up everything else. I can't wait to make this again, and again, and again.

Linguine with Turkey Italian Sausage, Tomatoes, Arugula, and Ciliengini:
Inspired recipe and photos by For the Love of Cooking.net
Original recipe by Mingo
1-2 tsp olive oil

5 turkey Italian sausages, removed from casings

5 cloves of garlic, minced

1 cup of chicken broth

1/2 – 1 tsp dried oregano

1 1/2 cups of grape tomatoes

1 1/2 cups of arugula

10-12 balls of ciliengini mozzarella cheese, sliced in half

Sea salt and freshly cracked pepper, to taste

9 oz linguine, cooked per instructions

Heat the olive oil in a large skillet over medium high heat. Remove the sausage from the casings and form into small balls. Place the balls into the skillet and cook for 4-5 minutes. Add the minced garlic and tomatoes then stir constantly for 1 minute. Add the chicken broth to the skillet as well as the oregano and some sea salt and freshly cracked pepper. Break up a few of the tomatoes by piercing them with the spatula. Cook for a 8-10 minutes while the pasta is cooking. Taste the sauce and re-season with sea salt, freshly cracked pepper, and oregano, if needed. Drain the pasta and add to the sauce, toss to coat. Add the arugula and ciliengini cheese then serve immediately. Enjoy!