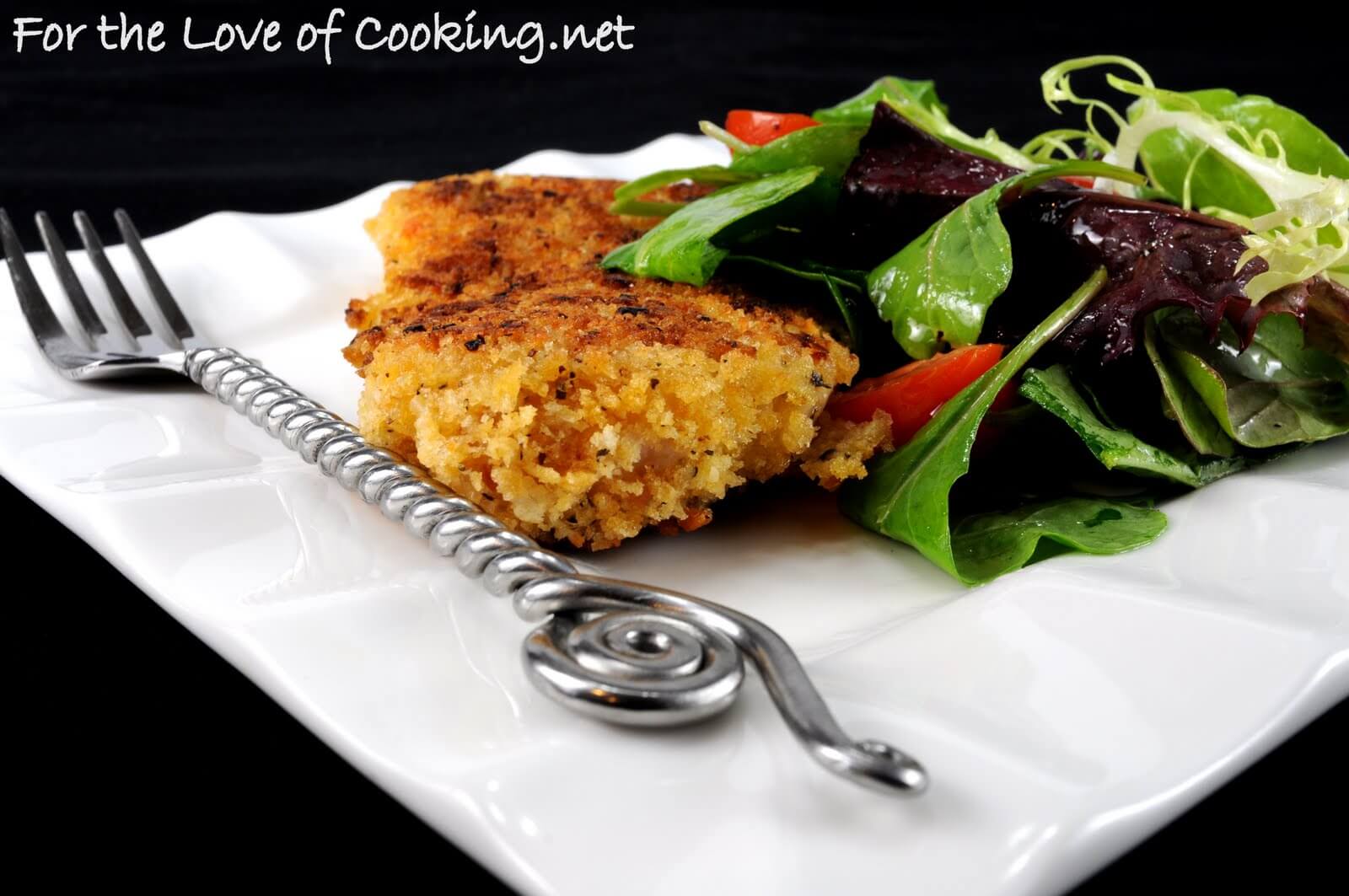 We had friends over for dinner and I wanted to make something delicious yet easy. This Cooking Light recipe was exactly what I was looking for. I adapted it a bit by using Fran's Vinaigrette on the mixed greens instead of the lemon juice & white wine vinegar. The chicken turned out crisp and flavorful without being greasy. The greens were sweet & tangy – perfect with the chicken. I served this meal with the Roasted Garlic Whole Wheat Rolls and Parmesan-Brown Butter Orzo. The entire meal was wonderful!
Chicken Milanese with Spring Greens:
Adapted recipe and photos by For the Love of Cooking
Original recipe by Cooking Light
1/4 cup of canola oil
1 1/2 tbsp seasoned rice vinegar
1/2 tbsp red wine vinegar
2 cloves of garlic, minced
1/2 tsp of sugar, more if desired
1 tbsp olive oil, more if needed
Sea salt and freshly cracked pepper, to taste
4 boneless, skinless breasts
Garlic powder, to taste
1/4 cup of flour
2 eggs, beaten
2 tbsp milk
1 cup of Italian seasoned panko crumbs
3 tbsp Parmesan cheese, grated
3 cups of spring mixed salad greens
Grape tomatoes, sliced in half
Combine the canola oil, seasoned rice vinegar, red wine vinegar, minced garlic, sugar, sea salt, and freshly cracked pepper, to taste, together in a small container. Whisk together then set aside to let flavors mingle.
Take each chicken breast and place them, one at a time, in a zip lock bag. Pound the chicken breasts to 1/2 inch thickness using a meat mallet. Cut the chicken breast in half and set aside. Repeat with the remaining pieces of chicken.
Season the flour with garlic powder, sea salt, and freshly cracked pepper, to taste; mix well. Combine the egg with the milk in another bowl; mix well. Add the panko crumbs together with the Parmesan cheese in another bowl; mix well.
Dredge the chicken in flour; dip in egg; dredge in panko mixture. Place coated chicken on a baking tray that is covered in wax paper. Repeat with the remaining pieces of chicken. Place the baking tray into the refrigerator for at least 30 minutes. This will help the breading stick to the chicken.
Heat the olive oil in a large skillet over medium heat. Once the pan is hot, add the chicken, cooking a few pieces at a time. Cook for 3-4 minutes; turn chicken over and cook 2-3 minutes or until golden brown and cooked through.
Whisk the vinaigrette thoroughly then drizzle it onto the greens and tomato halves; toss to coat evenly.
Serve a piece of chicken with a handful of greens on each plate. Enjoy.

Click here for a printable version of this recipe – For the Love of Cooking.net