Do you want to know a secret to get your kids to eat most any vegetable? Drizzle a little bit of balsamic glaze on top of the veggies right before you serve them. My kids seriously love balsamic glaze and they will even eat the dreaded Brussels sprouts. This side dish nearly didn't make it to the table for dinner… I kept nibbling the veggies while I finished the rest of the meal. They were SO GOOD! There is just something special about roasted vegetables! This combination of flavors was excellent and I could have eaten the whole bowl for dinner. Seriously. Simple food is my favorite kind!
How to Make Roasted Brussels Sprouts and Butternut Squash with Dried Cranberries
Preheat the oven to 400 degrees. Coat the baking sheet with coconut oil cooking spray.
Toss the sliced Brussels sprouts, diced butternut squash, and sliced onion together on the baking sheet with some olive oil until evenly coated. Season the veggies with sea salt and freshly cracked pepper, to taste.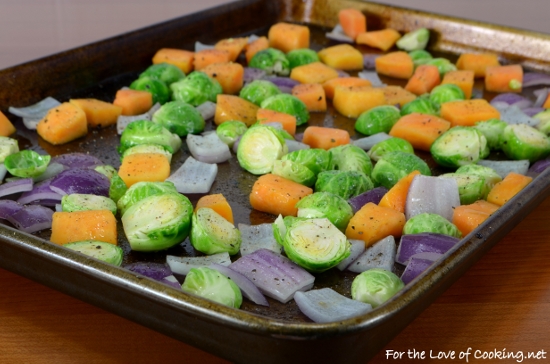 Place into the oven and roast for 7-8 minutes. Gently flip the vegetables with a spatula, then return to the oven to roast for another 7-8 minutes, or until the veggies are fork-tender and golden.
Remove from the oven then sprinkle with the dried cranberries. Spoon into a serving bowl. Serve immediately with balsamic glaze drizzled on top, if desired.