I made my kids this open-faced egg salad sandwich for their after-school snack yesterday. It was super easy to whip up and it used up leftover chives from dinner the night before and a piece of bacon from breakfast. The kids both gobbled up their half and thought it was tasty.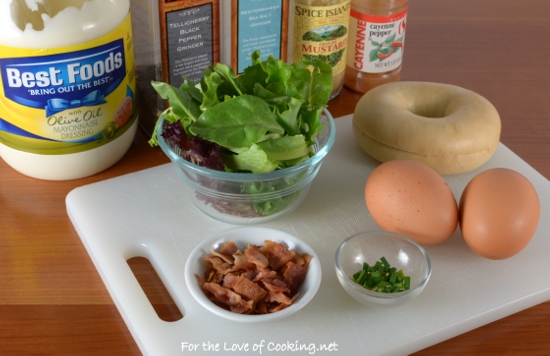 How to Make an Open-Faced Egg Salad Sandwich with Bacon and Chives
Prepare the hard boiled eggs. Click here for the recipe.
Peel two eggs then place them in a bowl. Add the mayonnaise, pinch of dried mustard, a dash of cayenne, and season with sea salt and freshly cracked pepper, to taste. Mash with a fork until well combined. Taste and add more mayonnaise or seasonings, if needed.
Toast the bagel. Lay some mixed greens on the toasted bagel halves then scoop the egg salad equally on each half. Sprinkle the top with bacon bits and fresh chives. Serve immediately. Enjoy.