Shish Kebabs – Teriyaki Beef, Vegetable, and Lemon Basil Shrimp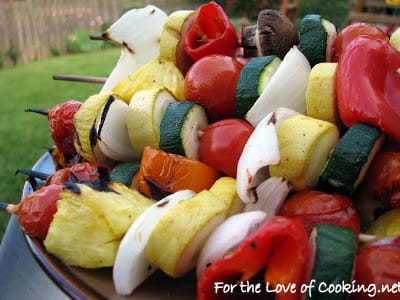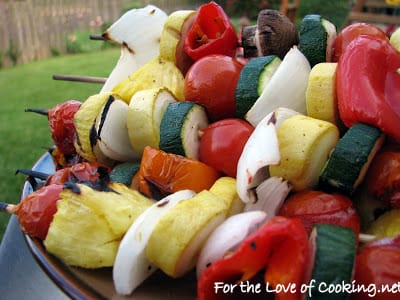 I wanted a simple and healthy meal to serve our friends who came for dinner. Shish kebabs were the perfect choice to satisfy everyone. My husband did a great job grilling the veggies, steak and shrimp. I served the kebabs with brown rice and my friend, Kyle, brought a wonderful strawberry, balsamic and mint salad. The meal was really tasty and enjoyed by all.
Note: Don't forget to soak skewer sticks in water before using to avoid burning them.
Beef Kebabs:
Beef of your choice (I used sirloin because it was really lean), chopped into chunks
Teriyaki Sauce:
1/2 cup soy sauce
2 tbsp honey
2 tsp sesame oil
3 scallions, diced
1 tbsp garlic, chopped finely
2 tsp fresh ginger, chopped finely
Juice of one navel orange
Combine all ingredients in a large zip lock bag. Marinate for at least 1-24 hours prior to grilling. I skewer right before grilling.
Vegetables:
Cremini or button mushrooms
Red, orange and/or yellow peppers, cut into large chunks
Sweet yellow onion, cut into large chunks
Yellow squash, cut into large chunks
Zucchini squash, cut into large chunks
Cherry tomatoes
Fresh pineapple, cut into large chunks
Skewer the veggies one at a time, trying to get one of each on a skewer. I usually season with salt and pepper after grilling.
Shrimp:
Shrimp (I used medium sized but next time I will use large)
Marinade:
1 tbsp olive oil
Salt and pepper to taste
Zest of one lemon
1 tbsp fresh basil, chopped finely
2 cloves of garlic, minced
Combine all ingredients in a large Ziploc bag. Marinate for 2-5 hours. Note: Don't use lemon juice in the marinade because it will cook the shrimp.
Grilling:
I used separate skewers for the beef, shrimp and veggies because they all have different cooking times.
Grill the veggies for 10-12 minutes on each side.
Grill the beef for 4-5 minutes on each side or until desired doneness.
Grill the shrimp for 2-3 minutes on each side or until pink. Don't over cook.
I served over brown rice mixed with soy sauce and butter. Enjoy.