Roasted Tomato Medley with Zucchini and Cotija Cheese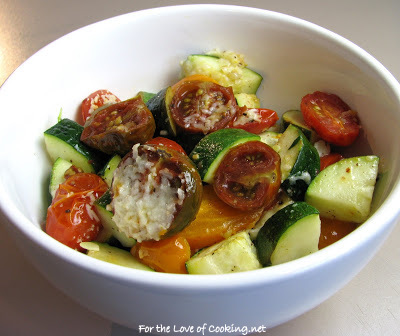 I love roasting veggies but I don't usually do it in the summer. It was a cold and cloudy day so I decided to roast a medley of cherry tomatoes and zucchini freshly picked from my neighbor Jack's garden. I topped it off with some shredded cotija cheese. The tomatoes are sweet while the cheese is a bit salty – a perfect combination of flavors. I served with Green Chile Chicken and black beans. A simple and delicious side dish.
1 large handful of red, yellow and green grape tomatoes, sliced into half
1 large zucchini, diced
1 tbsp olive oil
Sea Salt and fresh cracked pepper to taste
1-2 tbsp cotija cheese, shredded
Preheat oven to 350 degrees.
Line a baking sheet with tin foil. Place tomato halves and zucchini on baking sheet. Drizzle olive oil, sea salt and fresh cracked pepper to taste. Roast in the oven for 5 minutes; add cheese to the top and bake an additional 5 minutes or until tender.

Click here for a printable version of this recipe