Gemelli with Chanterelles, Pine Nuts, and Parmesan
My amazing friend Currié gave me more fresh chanterelles this week and I couldn't wait to make another recipe with them. I wanted their flavor to shine in the dish so I simply sautéed them in butter and garlic then tossed them with gemelli pasta, pine nuts, parsley, and shaved Parmesan cheese. This dish was so delicious! I loved the big chunks of mushrooms, the crunchy pine nuts, the salty cheese, and the noodles tossed in the garlic butter – it was a simple and flavorful dish. Thanks for the mushrooms Currié!
How to Make Gemelli with Chanterelles, Pine Nuts, and Parmesan Cheese:
Recipe and photos by For the Love of Cooking.net
Ingredients:
2-3 tbsp butter
2 cups of chanterelles, cleaned and sliced in half
4 cloves of garlic
2 -3 tbsp toasted pine nuts
Parmesan cheese, shaved
Sea salt and freshly cracked pepper, to taste
Fresh parsley, chopped
8 oz gemelli pasta, cooked per instructions
Add pine nuts to a small dry skillet over low heat; cook for 4-5 minutes, tossing regularly until toasted. Remove from skillet and set aside. Cook the pasta per instructions, drain & reserve 1/2 cup of the cooking water.
While the pasta is cooking, heat the butter in a large skillet over medium-high heat. Once the pan is hot add the chanterelle mushrooms and sauté for 4-5 minutes or until they are golden brown. Add the garlic and stir, constantly for 1 minute.
Add the cooked and drained pasta to the butter and chanterelles then add the toasted pine nuts, fresh parsley, and sea salt, and freshly cracked pepper, to taste and some of the reserved cooking water, to taste–toss to coat evenly. Taste and re-season if needed. Sprinkle with shaved Parmesan and serve immediately. Enjoy.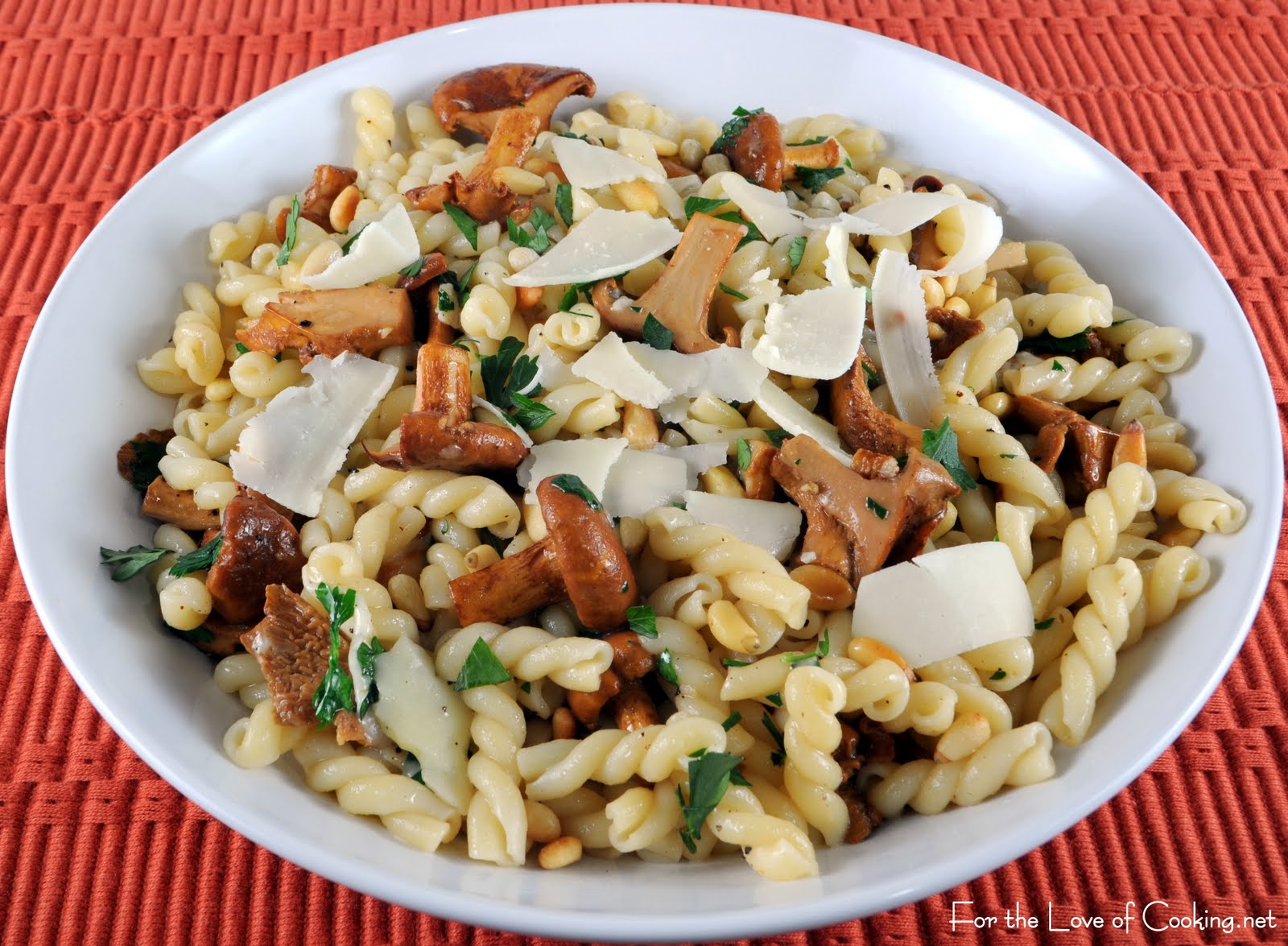 Click here for a printable version of this recipe – For the Love of Cooking.net