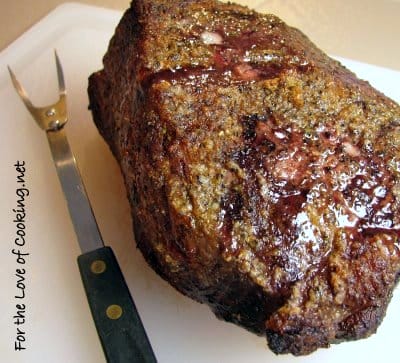 I made my first roast beef and it turned out really good. For some reason I was worried about making one but I am so glad I did. It was much easier than I expected and it was cooked perfectly. I looked at several cookbooks and websites to get different ideas. Simply Recipes had a cool recipe and a very interesting way to cook the meat so it turned your oven into a convection oven, which means you don't have to turn the meat while cooking. I was skeptical at first but delighted with the result! I seasoned the meat the way my Mom does, filled with garlic slivers and topped with a rub. I use Snider's Prime Rib and Roast Seasoning. My Dad got me hooked on it a few years ago and keeps me well stocked – thanks Dad! This seasoning is great on all meat but I really love it on beef. I also followed my new meat thermometer, I finally bought a really good one and can't believe it took me so long. I set it for the meat temperature I wanted and it beeped at me when it was done cooking. So simple. It was medium rare, tender and delicious. I served with fresh green beans and mashed potatoes and gravy. We all loved this meal, especially my kids.
3 1/2 lb round roast
4 cloves of garlic cut thin slivers
Snider's seasoning (or your favorite steak seasoning)
Black pepper
Garlic powder
Sea salt
Olive oil cooking spray
Preheat oven to 375 degrees.
With a sharp knife, cut slits all over the roast and place a sliver of garlic in each hole. Season the entire roast with steak seasoning, pepper, garlic powder and more salt if you desire then spray with olive oil cooking spray.
Place the roast (fat side up) on a roasting rack, directly on the oven rack. Put a drip pan beneath the roast to catch all the juices. It's easy to clean up and there isn't that much of a mess. It works great!! Bake at 375 degrees for 30 minutes then reduce heat to 250 degrees (Simply Recipes says 225 degrees) I cooked it until the meat thermometer read 145. I removed the roast and let it rest for 15-20 minutes before slicing. Enjoy.