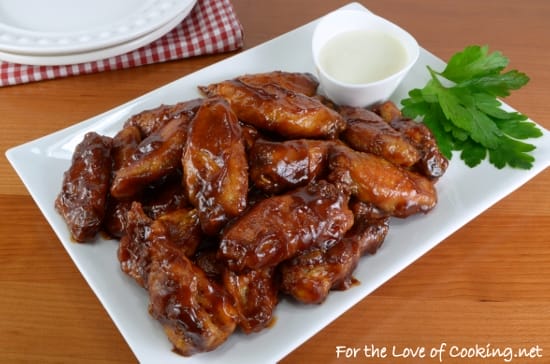 My daughter and husband both love spicy chicken wings but my son prefers sweet and sticky barbecue wings. I surprised my boy earlier this week with these wings for dinner. Since it was a weeknight and I wanted to keep it simple, I used my son's favorite store-bought barbecue sauce instead of making homemade. I decided to lightly coat the wings in seasoned flour to give them a nice crisp exterior that's not only tasty but great for soaking up sauce too. These wings turned out crispy, sticky, sweet, and delicious. Both of my kids loved these baked barbecue wings and took the leftovers to school the following day. These wings paired nicely with Grilled Corn and Orzo Salad with Tomatoes and Basil and some fresh fruit.
How to Make Baked Barbecue Wings
Preheat the oven to 400 degrees. Drizzle the oil on the baking sheet and spread it evenly over its surface.
Combine the flour, garlic powder, black pepper, and sea salt, to taste in a large zip lock bag; seal and mix until well combined. Add a large handful of wings to the flour mixture and toss until evenly coated. Remove from the flour shaking excess off; place skin side UP on the prepared baking sheet without crowding them too much. Repeat with the remaining wings. Discard any leftover flour.
Place the wings into the oven and bake undisturbed for 30 minutes. After 30 minutes, flip the wings over and continue to bake for another 15 minutes. Remove from the oven and place on paper towels to drain grease. Place the wings in a large bowl then drizzle the barbecue sauce on the wings then toss to coat evenly. Serve immediately. Enjoy.