September is upon us and I am one happy lady. What's not to love? Baking, brisk weather, leaves changing colors, pumpkin anything, holidays, cooking low & slow, and warm sweaters. It's been really chilly here this week, so when my friend Currié gave me an acorn squash, I decided to roast it. I slathered it with a bit of butter then simply seasoned it with sea salt and freshly cracked pepper before drizzling with honey and a sprinkle of fresh thyme leaves. I served this honey roasted acorn squash with our lunch and my kids gobbled it up… they both said they loved the honey/butter combination. I loved it too!
How to Make Honey-Roasted Acorn Squash with Thyme
Preheat the oven to 450 degrees. Line a baking sheet with tin foil then coat with a bit of cooking spray.
Slice the acorn squash in half lengthwise then scoop out the seeds from the center of each half. Place the squash on the prepared baking sheet. Rub a tablespoon of softened butter in each acorn half then season with sea salt and freshly cracked pepper, to taste. Drizzle honey over each acorn half then add a few fresh thyme leaves.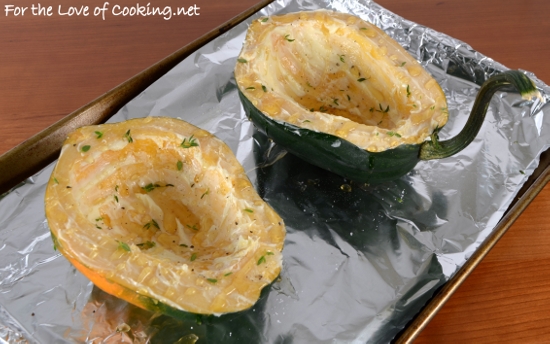 Place into the oven and bake 40-45 minutes or until the squash is fork-tender. Serve immediately. Enjoy.