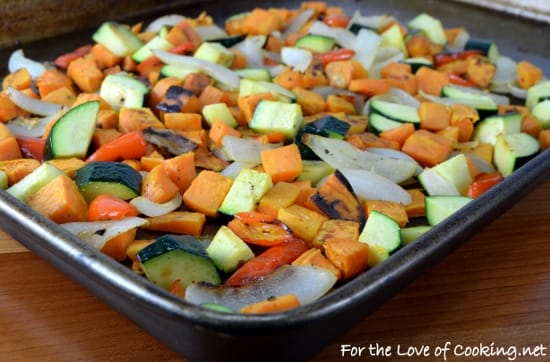 I roasted a big pan of sweet potatoes and vegetables so I could make quick breakfasts or lunches with them throughout the week. Roasting the potatoes & veggies brings out such great flavors and they are so versatile. You can mix them with eggs, pastas, rice bowls, or eat them plain. They are great to have on hand when you don't have a lot of time to prepare meals.
Preheat the oven to 400 degrees. Coat a baking sheet with olive oil cooking spray.
Place the diced sweet potatoes, onion, and bell peppers on the baking sheet and drizzle with olive oil then season with garlic powder, crushed red pepper flakes, sea salt, and freshly cracked pepper, to taste. Place into the oven to roast for 15 minutes. Stir the sweet potatoes and veggies then add the zucchini. Return to the oven to roast for another 15 minutes, or until tender. Remove from the oven to cool. Serve immediately or place in an airtight container to use throughout the week. Enjoy.